Turn Your AmiBroker Problems into Solutions, Now
Stop Losing Money and Start Testing Trading Ideas with Expertly Written AmiBroker Code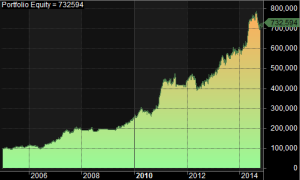 You already know that AmiBroker is one of the best investment tools you can make to improve the results of your trading, allowing you to test your trading ideas without losing thousands of dollars.
Making the most of your AmiBroker software to meet your exact needs can be complicated—but resolved with the help of expert coding tailored to meet your needs.
My name is Cesar Alvarez, and for more than a decade I've been helping folks from all corners of the world unlock the power of AmiBroker, by overcoming the exceptional challenges that naturally result from some of the most creative and profitable ideas.
Make full use of AmiBroker's Custom Back Tester with expert code
Avoid potentially expensive mistakes by using professional testing frameworks and database guidance
Maximize AmiBroker's potential with powerful, custom code that delivers exactly what you need—whether you seek custom charts or smooth automation.
Coding projects
Testing and verification of your trading strategy
Extending current AFL code that you have
Code Templates
Signal generation
Custom charts
Custom Indicators
Excel and AmiBroker automation
I offer 13 years of experience in coding and programming using AmiBroker software—9 of those years were as Director of Research for Connors Research, world-leading experts in quantified short-term market behaviors.
In short, not only do I offer expert industry knowledge when it comes to effective trading strategies and their implementation in testing, I also offer the coding abilities of a programmer to test and verify your strategy and expand on code that isn't "quite right."
I bill by the project so you know ahead of time how much your project will be.
To get started use the Contact Me page or Email Me